VVP-VIRTUAL VISUAL PLANNER
Make your project management even better by using the digital planning tool Virtual Visual Planner (VVP) - and get a faster overview.
Planning and process control
VVP is used in companies as well as in public organizations. You get a practical and flexible tool for planning and process control of any type of project. In practice, it works as one digital whiteboard, where you can work online to create, update and move on to "virtual Post-its" - either with the mouse or by touch (touch screen). This makes VVP particularly suitable for meetings with participants from different geographical locations, or if you are often on the move.
VVP supports common models for project management, e.g. Lean, Scrum, Kanban, etc. It is easy to create and continuously adapt project boards that are based on your desired business processes. In addition, tasks and calendar invitations can be integrated with Outlook (e.g. task manager and calendar manager). It is also possible to have links to documents on online shared drives (eg Sharepoint, Dropbox, OneDrive, etc.).
You can even choose the appearance and level of detail of your boards, as well as edit existing boards with deletions or additions. 
VVP makes it easier to run parallel projects with many simultaneous participants – without you lose sight of.
VIRTUAL VISUAL PLANNER ENSURES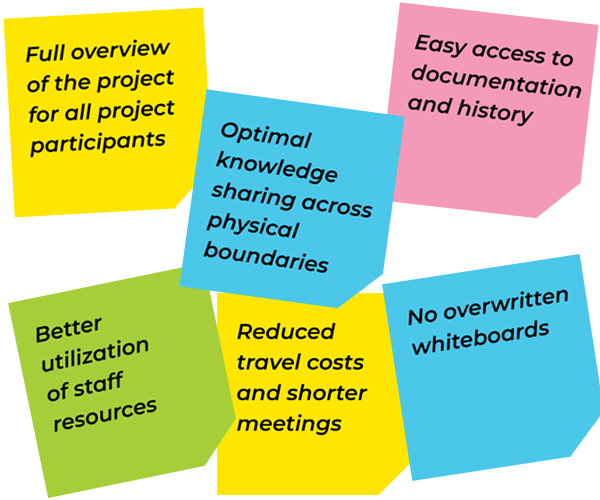 WITH VIRTUAL VISUAL PLANNERS YOU GET
FOCUS ON PLANNING AND TASK MANAGEMENT
VVP has been developed in close collaboration with some of the largest consulting and scientific companies in Denmark.
Pallas is an agile partner that continuously adapts functions in VVP based on the customers' inputs.
ACROSS BORDERS AND HOME OFFICE
Today, VVP is used in a number of leading industrial companies in the design and production of enzymes, food and robotics. VVP is particularly useful for projects across borders and time zones, and where the employees are located in several geographical locations, or of course in organizations where employees also make their labor available from e.g. home workplaces.
DO YOU WANT TO KNOW MORE?
If you want price and license information, or if you are interested in trying VVP, you can fill in the form below. 
You are also welcome to write to us directly at sales@viurtalvisualplanner.com
We hope you will enjoy the tool and we always appreciate any questions or suggestions for improvements. 
If you are interested in trying VVP, please contact us using the contact form.